I HATE CAR SHOPPING. It was literally the worst and most stressful thing I ever had to do. Particularly because I was on a time crunch and my old car had become incredibly unreliable and borderline dangerous. A lot of you guys have been asking me for tips since you're in the car market, so I'll show you what I was considering / my thoughts.
So I wanted a car that was:
Japanese or Korean (Euros...are headaches.)
Low mileage- wanted to buy slightly used, cars are one of the worst assets for depreciation
Preferably leather but could do without
RELIABLE. This is big
Could take 24,000 miles a year- which is what I've been driving lately
Was reasonably priced. I've been saving a lot towards retirement lately and pushing as much to the principal of my school loan so I didn't want something I would heavily finance
So these were the cars I considered:
Volkswagen Jetta
New body style
Pros:
The new ones are SO CUTE. Such a clean body that I think will age well (I don't like the last body model but I like the ones from early 2000s).
German (only for drivability factor...I drive so much! But I love how responsive German cars are and how they feel
German paint also tends to age better, which is part of why they look better for longer
Cons:
German (unreliable) haha
Cousins Jetta went out at 80k with perfect maintenance... WHACK. They should be embarrassed. Theyre suckers too so they always brought it to the dealer
Last body model had electrical problems and there were numerous reports of cars stalling on the freeway. Just turning off...on a FREEWAY. INCREDIBLY dangerous
Cheap looking dash/steering wheel that doesn't match the body
Base doesn't come with air conditioning. Yes. You read that right. A new car with no air, pass.
Honda Civic
(any of the past two body styles)
Pros:
Hondas have a reliable history
More stylish than comparable cars like a Corolla
Great gas mileage (highway is in mid 30s)
The new ones come standard with a rearview back up camera in the dash
Cons:
Feels SO light to me, when I brake it feels like a toy. Doesn't have great "feel" to it
Hondas have fallen off the "Best Cars" list for awhile due to reliability issues with their newer models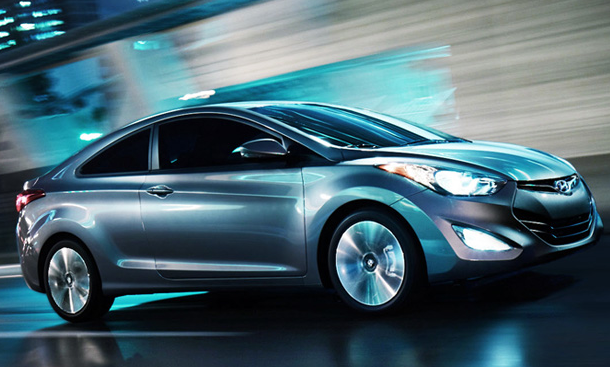 Hyundai Elantra Coupe
(2012 and on)
Pros:
Really sporty look for an entry level car
Amazing gas mileage 38 MPG! Win
AMAZING turn radius...try it! You'll be amazed. Crank the wheel as far is it will go and it just turns in the tightest little ball
Drives heavier than a civic (more like a German but still very light) fairly responsive
Cons:
The door panels look cheap on the inside, especially the window buttons. A weird thing to notice I know but stare at them and you'll see what I mean
Has a great powertrain warranty BUT still haven't stood the test of time like Honda/Corolla so you'd be taking a leap of faith
Don't like the space ship looking dash
2008 TSX
This is the only year I considered since it would be the 'newest'
I'm not very fond of the 2009+ tail lights...weird I know
Pros:
Reliable entry-level luxury car
Has the same background as Honda, cheap oil changes, tranny flushes etc.
Leather, comes stock with HIDs
Cons:
Would be hard to find without a lot of miles
Would also be hard to find the color I wanted (black or white)
Braking power/ brakes SUCK. Absolutely suck
Doesn't have a whole lot of power to the engine
(Something I've learned while owning it) the gas mileage is pretty bad for a Japanese car, I'm filling up just as often as I did with a much older German. So sad -_-'
So I ended up getting the TSX...even though it wasn't the color I wanted. I found one with JUST over 40k which is a little high but not so high that it would be something I had to worry about.
Here are my tips for car shopping:
Go with a guy. I hate to be sexist, but they will always try to run you around for an idiot if you go by yourself. Also I'm really uncomfortable with bartering, and apparently they thought I was a dumb*** because they all tried to sell it to me for sticker price (you must be joking) but I didn't have the balls to speak up so that's also my fault.
Know what the car is really worth so you have some leverage
Put as MUCH down as you possibly can...I had to put a lot aside for tax season so I only put down 5k but if you're a first time car buyer (as I was) with no co-sign your finance rate will be horrible- even with good credit. Talk to a local credit union to see what kind of rate they would finance you for so you have some leverage
and last but not least...
BUY YOUR CAR IN 626.
This doesn't help you if you live far away (unless you have some large Asian population nearby) but 626 is the area code and psuedonym for a predominantly Asian populated area of Los Angeles. It includes cities like: Alhambra, West Covina, Pasadena, Monterey Park etc.
You will literally save thousands if you buy your car here. They will beat any offer you can get anywhere else. 1) because they care more about volume than profit 2) they deal with Asian people all the time and they won't sell a car if they won't move on prices LOL. Even if you have to drive 2 hours or so I think its worth it for how much you'll save. Literally no one else will even come close to the deal you can get here.
Hello from my new car :D Did you guys buy a car recently...what did you get? Dying to know :)! Haha